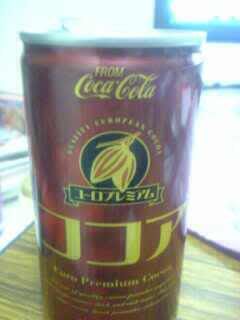 だんだん寒くなったね。この寒さに負けたくないから、こんな日々にうちの大好きな冬の
飲み物を飲む!
Ah...~ あったかいココアがいい!^o^
It's getting colder in Tokyo. So, on these cold days, I love to drink me a nice can of cocoa--straight from the nearest vending machine!
This one happens to be one of my favorite brands.
Current Location:

東京

Current Mood:

cold

Current Music:

Suzuki Tatsuhisa & Hatano Wataru-"Song on Morning"
Latest Month
August 2011
S
M
T
W
T
F
S
1
2
3
4
5
6
7
8
9
10
11
12
13
14
15
16
17
18
19
20
21
22
23
24
25
26
27
28
29
30
31