HanaKimi and Yamada Tarou
as I've enjoyed the manga for both as well as the
TW drama
versions. Tho, I really feel that HanaKimi is gonna have to be really special to blow me away like the TW drama did. I mean really...the TW cast was perfect. Well, even if I hadn't pictured
Ella
as
Mizuki
-ish from the beginning. But she really made the role hers and created her own likeable Mizuki. And of course, my boy Wu Chun was superb as
Sano
!! And tho, I haven't found any recent young j-actors to be as cool as their TW counterparts, it's just fitting to find that
Oguri Shun
will be playing Sano. Hope he can deliver because he does happen to be my fav. j-actor.
Anyhow, on a whim, I started watching
LIFE
. I've never read the manga but I know the kind of story it is.
I'm a little worried about how dramatic this story will get because I do know it deals with a lot of serious issues.
I gave it a try anyway. Not sure how long I'll stick with it but I thought the first episode was pretty good.
Sadly, this kind of stuff does happen in schools here. It's really what I hate about school here. Japanese students can be heck a mean bullies...and not just Sr. High, but in both Elementary and Jr. High. It really sucks. And the teachers don't really do anything to stop it.:/
But back to the story, I really hate Manami and Katsumi. Ugh so fake. And Katsumi is damn creepy.
Thank goodness
Sonoda
is there! I recognized his actor immediately! It's
Houjou Takahiro
from
Kamen Rider Blade
. Ah yes, those Kamen Riders sure are some
eye candy
, aren't they. Incidentally,
Mizushima Hiro
from
Kamen Rider Kabuto
will be in
HanaKimi
.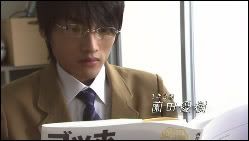 Houjou
has a good profile. So cute.
Anyway, I'll will see how long I'll continue watching this one.
So I've made it a point to follow some of the j-dramas out this season. There's quite a few based on manga out this summer. The two I'm most interested in are
Current Location:

Tokyo

Current Mood:

exhausted

Current Music:

"Dimelo" by Enrique Iglesias